Kotapay and Fintwist Partner to Offer Paycards
Eliminate Paper Checks by Utilizing Direct Deposit and Payroll Cards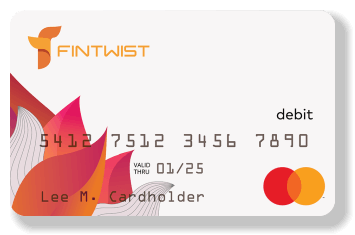 Give your unbanked employees the convenience of electronic pay, with similar cost-saving and time-saving benefits as those with traditional bank accounts. Kotapay has partnered with Fintwist to offer paycards. The Fintwist Mastercard Paycard is a new and cost effective way to pay employees. Backed by Mastercard and offered by Comdata, the leader in payroll cards, Fintwist offers users immediate access to their wages and a simple digital tool for managing their money. No bank account needed.
Fintwist is an efficient and secure digital payment solution that's easy to implement and to use. Utilize Fintwist with your current payroll systems – it requires little to no effort and mirrors your existing direct deposit process.
To ensure a simple and frictionless launch, Fintwist supports you every step of the way. Fintwist helps you plan, manage and test each stage to make sure you deliver the highly satisfying experience your employees deserve. After launch, the solution is flexible, so you can quickly adapt and respond to employee requests.
Employer Benefits:
Reduced cost for printing paper checks
No-fee paycard solution for employers
Provides a viable option for the unbanked
Personalized and instant issue cards
Mitigates risk of delayed or lost checks
Employee benefits include:
Immediate access to money
The Fintwist mobile app allows employees to see what they spend, know when they get paid, restrict the card if lost and pay bills on the go.
Ask about special pricing for Kotapay customers!