Clover® Station
Run your business like a pro with Clover's fastest, most secure point-of-sale system yet.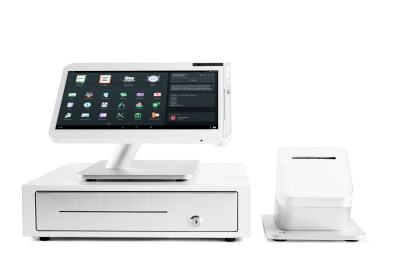 Large, versatile display
The 14 inch high-definition makes your work fast and easy, from inventory and employee management to payments and reporting.
Custom orders done right
Create custom orders quickly and accurately. Adjust a menu item, add or remove optional ingredients and modifiers, and automatically update the order total.
Speed, power, reliability
Clover Station packs plenty of processing power to help you run your business faster: update inventory, manage your staff, take orders, and pull reports. Now with an even faster CPU and more RAM.
Multi-layered security
Station gives you fingerprint login for enhanced employee security and end-to-end encryption of every transaction to help protect your data—yours as well as your customers'.
Clover Station is a countertop all-in-one Point-of-Sale (POS) system that swivels from merchant-facing to customer-facing mode for a seamless user experience. Your Station comes with the Classic Plan with more than 20 pre-installed apps to make tasks such as managing your inventory, taxes, orders, and tables a snap. The most advanced protection comes with Station such a fingerprint login and built-in encryptions for secure swipe, chip, and contactless payments.
---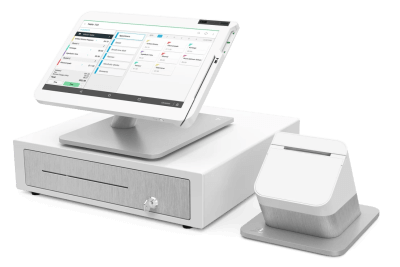 Features
Standard POS printer
Fingerprint login / 2 Printer Versions / Integrated Backup Battery with up to 3-4 hours of battery life
Integrated backup battery lasts up to four hours on single charge (printers will not operate)
Front facing camera with barcode scanner
Compatible with existing Clover peripherals
Processes checks with Clover Check Acceptance
---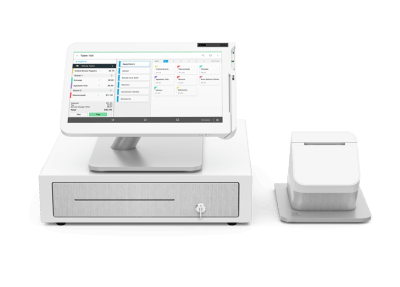 Specifications
Payments
Accept swipe (MSR), chip (EMV + PIN; EMV + signature), and cash
Clover Mini required for PIN Debit
Display
Crisp 14″ HD display with swivel feature for e-signature and customer engagement
Security
Clover Security end-to-end encryption
PCI PTS 4.x certified – PCI DSS (Payment Card Industry Data Security Standard) is the industry standard for providers and merchants to ensure that cardholder data is securely stored and transmitted
Processor
Faster state-of-the-art processor (4GB RAM) Qualcomm® Snapdragon™ 810 octa-core CPU (16GB ROM)
Connectivity
Multiple connectivity options include Wi-Fi, Ethernet, Bluetooth® BLE, four USB ports, two cash drawer ports
Hub
4 USB 2.0, 1 Ethernet, 2 Cash drawer Ports, Wi-Fi 802.11 a/b/g/n/ac Dual-Band 2.4 GHz/5 GHz, Bluetooth 4.2
Compatibility
Cash drawer, barcode scanner, kitchen printer, weight scale, kitchen order display (3rd party)
© 2021 First Data Corporation. All rights reserved. The Clover name, logo and related trademarks are owned by Clover Network, Inc., a wholly owned subsidiary of First Data Corporation, and are registered or used in the U.S. and many foreign countries.