Clover Mini
Clover® is a state-of-the-art business management solution
that helps a merchant streamline their business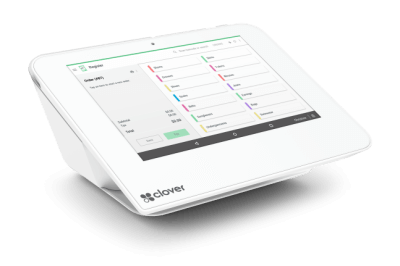 Small but powerful
Mini is small enough to fit into any space, but packs plenty of POS power to run your full house, front to back.
Payments made easy
Swipe, dip, tap, or take cash—accept all the ways your customers like to pay.
Future-proof your business
Mini can be as minimal or full-featured as you want it to be. And it will always grow and scale with your business.
On top of your numbers
Monitor your sales, refunds, and best-selling items from any computer or mobile device.
Clover Mini lets you accept multiple payment types, so your customers can pay the way they want to, and is packed with tools to make your life easier. Clover Mini offers the functionality, flexibility and security you've always wanted, without the hassle of a big business system.
---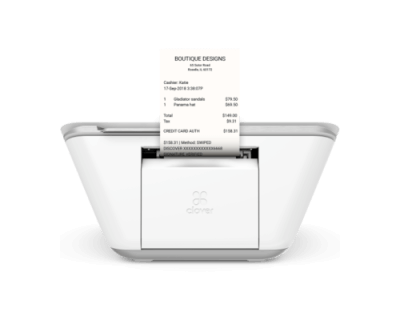 Features
Built-in thermal receipt printer
Accept signatures or PIN-numbers on screen
Front facing camera with barcode scanner
Compatible with existing Clover peripherals
Processes checks with Clover Check Acceptance
---
Specifications
Payments
Accept swipe (MSR), chip (EMV + PIN; EMV + signature), and contactless (NFC) payments including Apple Pay®, Google Pay® Samsung Pay® and cash
Body
Brushed aluminum with white glass accents
Display
7″ LCD color touch screen, 1280 x 800 pixel resolution, Antimicrobial Corning® Gorilla® Glass
Connectivity
Ethernet, Wi-Fi (802.11a/b/g/n wireless) and optional LTE
Security
Clover Security end-to-end encryption
PCI PTS 4.x certified – PCI DSS (Payment Card Industry Data Security Standard) is the industry standard for providers and merchants to ensure that cardholder data is securely stored and transmitted
Processor
1.6GHz Quad Core A15
Memory
2GB RAM, 8GB ROM
Power source
External power adapter with DC input
Hub
Charging port, 1 Type B USB ports; 4 Type A USB ports, 1 ethernet port, 1 cash drawer port
Compatibility
Cash drawer, barcode scanner, kitchen printer, weight scale, kitchen order display (3rd party)
Dimensions
H: 6.47″, W: 8.0″, D: 3.73″
Weight
Device & hub 2.5 lbs
© 2021 First Data Corporation. All rights reserved. The Clover name, logo and related trademarks are owned by Clover Network, Inc., a wholly owned subsidiary of First Data Corporation, and are registered or used in the U.S. and many foreign countries.